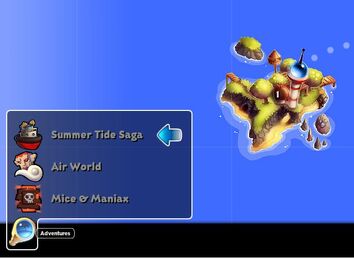 Adventures in MilMo is divided into smaller areas.
There are 3 main areas in the game:
1.Summer Tide Saga
2.Mice & Maniax
3.Air World
All you have to do is pay a small fee of gems to take a ship (in Summer Tide Saga), a mouse cart (in Mice & Maniax) or Aurax teleportation (in Air World).
The only area that is completely free of charge to visit is the Chatroom area Seastar Resort.
Summer Tide Saga
---
Alien Ruins
Ancient Forest
Boss Beach
Cannon Island
Cozyville
Kraken Island
Lightmill Island
Mushroom Forest
Nikonos Island
Rhubarb Island
Rose Island
Sage Oak Island
Swamp Island
The Eternal Monument
The Hidden Tor
Treehouse Island
Visitor Island
Water Lily Island
Air World
---
Atrium
Aviary
Labyrinth
Mechalon
Mezzanine
Necropolis
Palaestra
Propylon
Temenos
The Village
Ziggurat

Mice & Maniax
---
Crawlspace
Flea Circus
Spooky Island
The Kitchen
The Refuge
Ad blocker interference detected!
Wikia is a free-to-use site that makes money from advertising. We have a modified experience for viewers using ad blockers

Wikia is not accessible if you've made further modifications. Remove the custom ad blocker rule(s) and the page will load as expected.